Given the amount of ground we (literally) cover on each cruise, I thought it made sense to group our two big land-based vacations together into one longer post. This ignores trips like our family vacation to Disney World with both Matt's family and my own, or any smaller trips we have taken to places like Gettysburg or the Eastern Shore of Maryland.
2013: Cabo, Mexico for our Honeymoon
We got married on May 25th, 2013 in Charlottesville, Virginia at the UVA chapel. I started coming down with something on the 23rd, by the 24th my voice was raspy, and by the 25th I couldn't say a word. My vows were barely whispered to the pastor.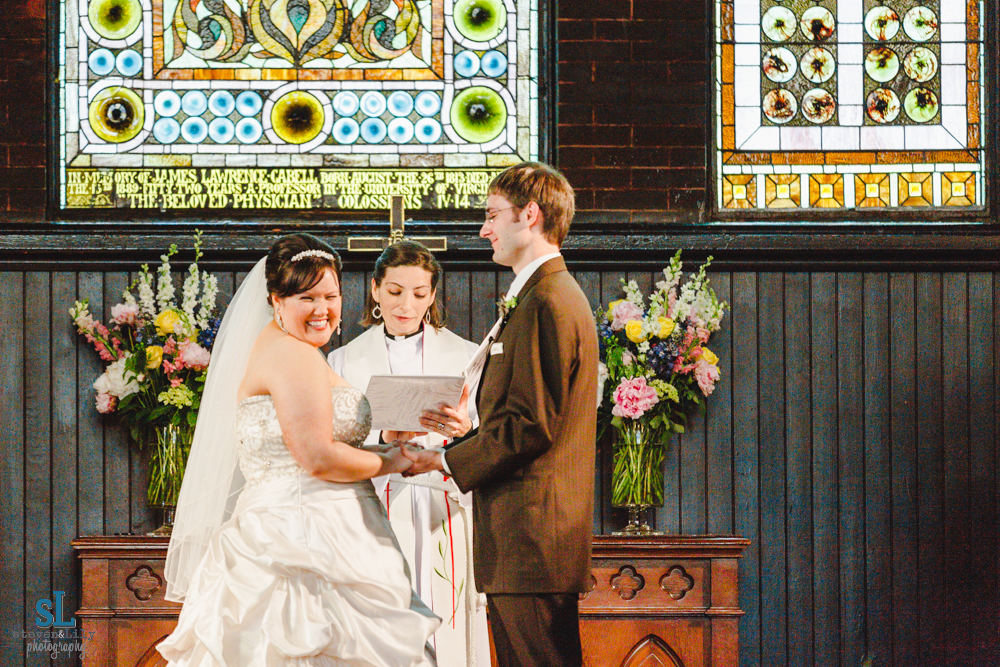 When we left two days later for our honeymoon, I could speak a bit more, but I was still taking a lot of over-the-counter medication. This was unfortunate since I'm the only one of the two of us who speaks a bit of Spanish, and we were en route to Mexico.
On the way there, we flew via American Airlines, the company my dad is a pilot for, and he managed to get ahold of the flight crew and have the captain congratulate us once we reached a cruising altitude. They also gave us some complementary champagne, which was sweet.
Once we arrived in Cabo, we headed to the Barcelo all-inclusive resort. This is the same resort that you may have seen on Wheel of Fortune sometime in the following year or two, which was then devastated by a rare hurricane along the peninsula.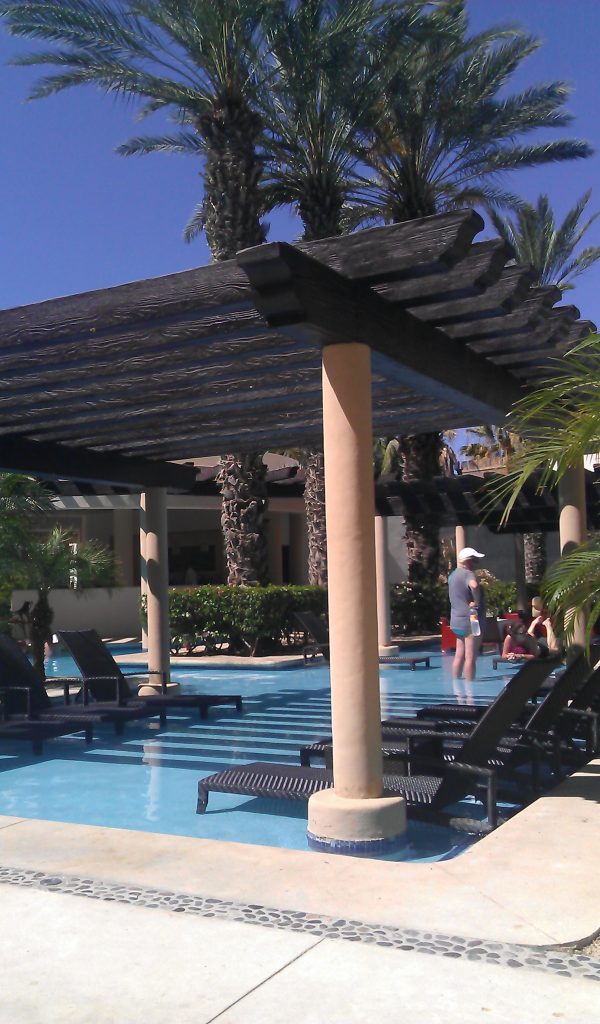 This was our first real vacation together, and it was Matt's second time out of the country (he had previously been to Canada). Since we were coming off a rather stressful time with our wedding and my corporate job (which I was about to put in my two-weeks' notice for), we just wanted to go somewhere where everything was included and we didn't have to think about what we were doing.
The room and buffet were lovely, and we enjoyed a few nights at specialty restaurants during our time there. We mostly sat by the pool and enjoyed unlimited drinks, and we also took a snorkeling excursion. This was Matt's first time snorkeling and only my second time snorkeling, so it was a fun experience, even if the waters were less calm than in the Caribbean.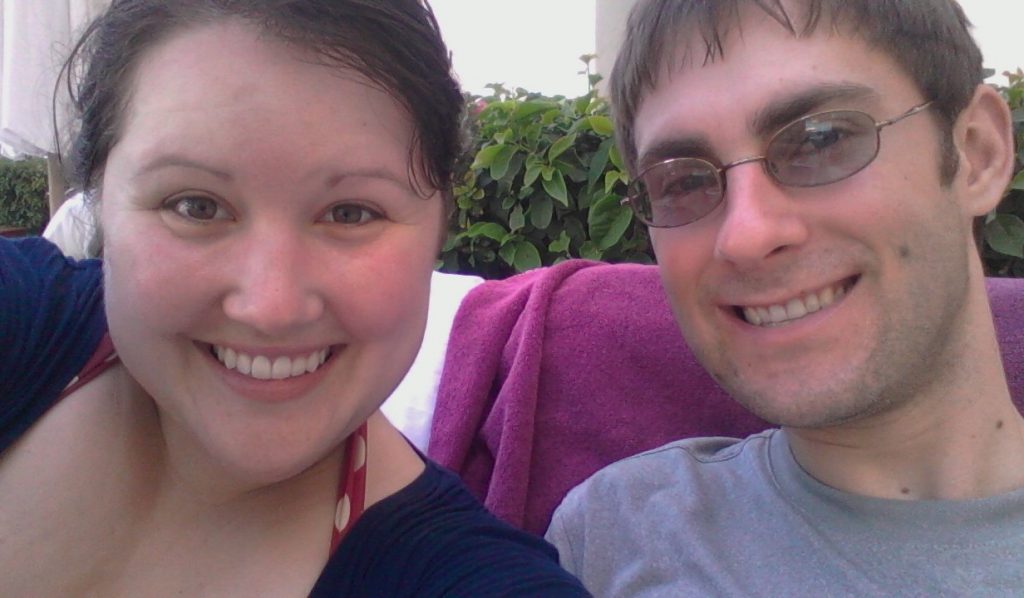 This level of activity was mostly right up my alley, but, by the end of the week, we were both feeling a bit restless. Matt often needs a lot of activity, even during a weekend at home, so we decided to give what he thought was his ideal type of vacation a try next.
2015: Western Europe
We bought our first house in 2014, so we pushed our European excursion back a year. Since this was our "all-out" Matt-style vacation, he spent a lot of time working on our itinerary and figuring out train schedules. I worked on finding good hotels with places to eat nearby. Before we had even left, we could tell this trip would be exhausting.
Thanks to my dad, we were able to fly first-class to London on standby tickets, which was a great experience. Of course, it made every flight thereafter slightly less enjoyable in comparison.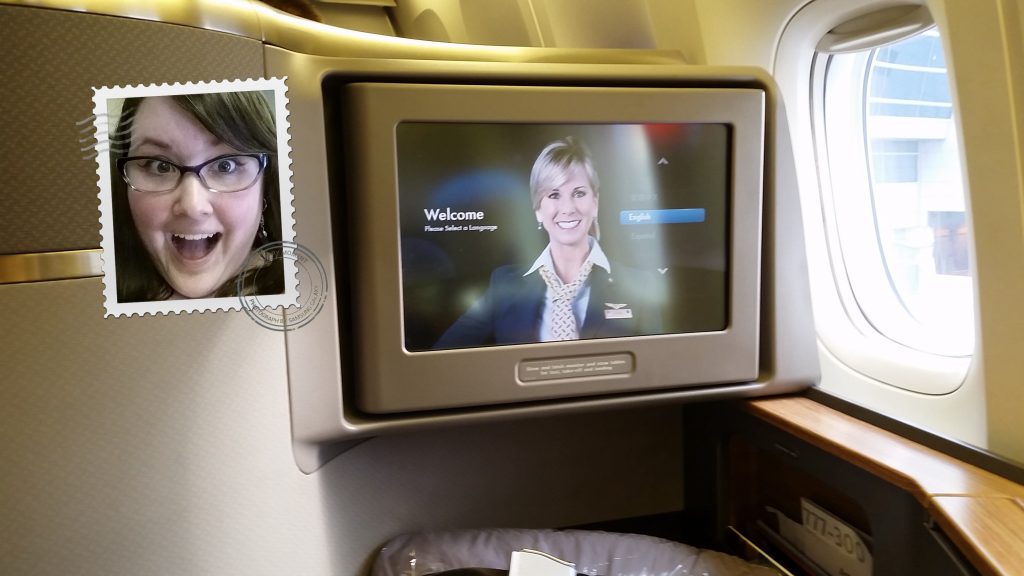 We knew that we needed to stay awake when we arrived in London, but that didn't make it any easier to figure out how to take public transportation to our hotel. Once we showered, we headed out for a big bus tour, which allowed us to get a good overview of the city for our first day. We had a full English breakfast, a proper afternoon tea, and curry at Piccadilly Circus while we were there. We made it to Westminster Abbey and the Tower of London, where we saw the Crown Jewels.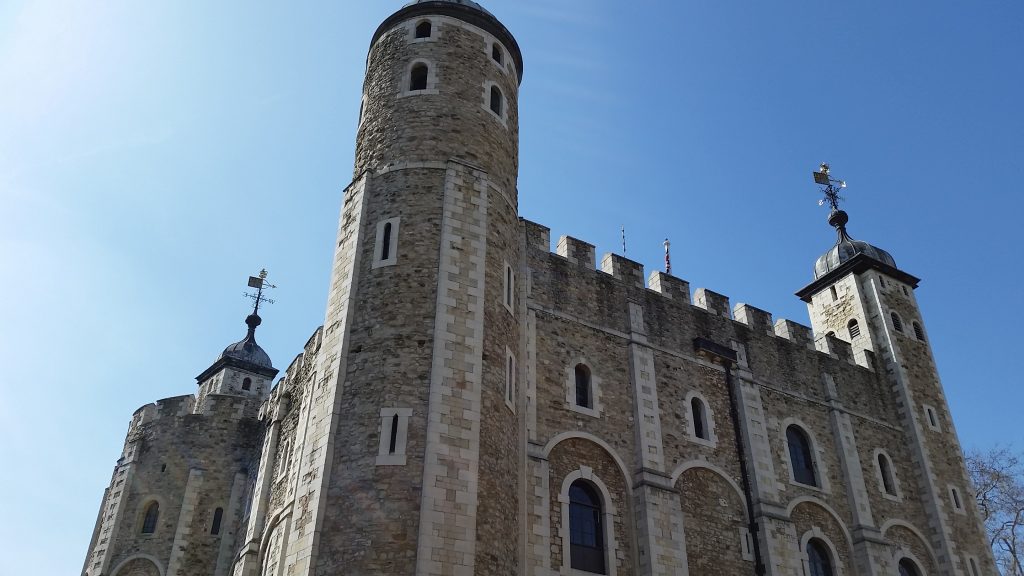 London ended up being our least favorite stop for this trip, as we felt like we were in a city much like any big American city. However, I think the jet lag also soured our time there a bit. When we return, we'll have already hit a lot of the big "must-see" places, so we could spend a bit more time exploring smaller places of interest.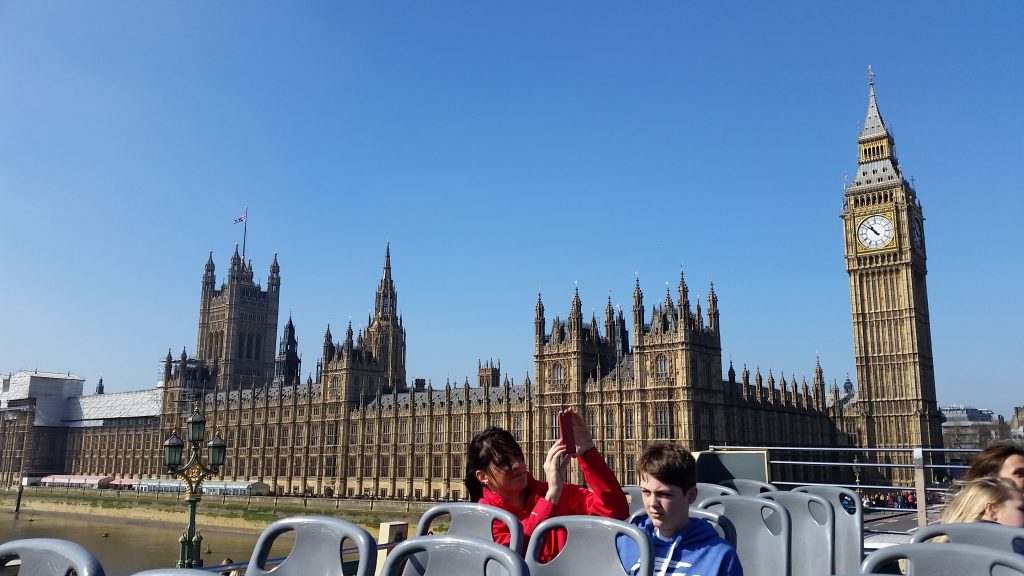 From London we headed to Paris, which was probably my favorite stop on the trip. I learned some basic French for ordering in restaurants before we left after hearing about how the French disliked American tourists. My parents also had a bad experience in Paris while stationed in Europe in the 80s, where a shop owner locked them out to prevent them from eating there. However, our experience couldn't have been better. Everyone was very friendly to us, at least to our faces, and they seemed to appreciate our basic attempts at French. Matt accidentally ordered a cappuccino at one cafe, where he just said that he'd have what I was having.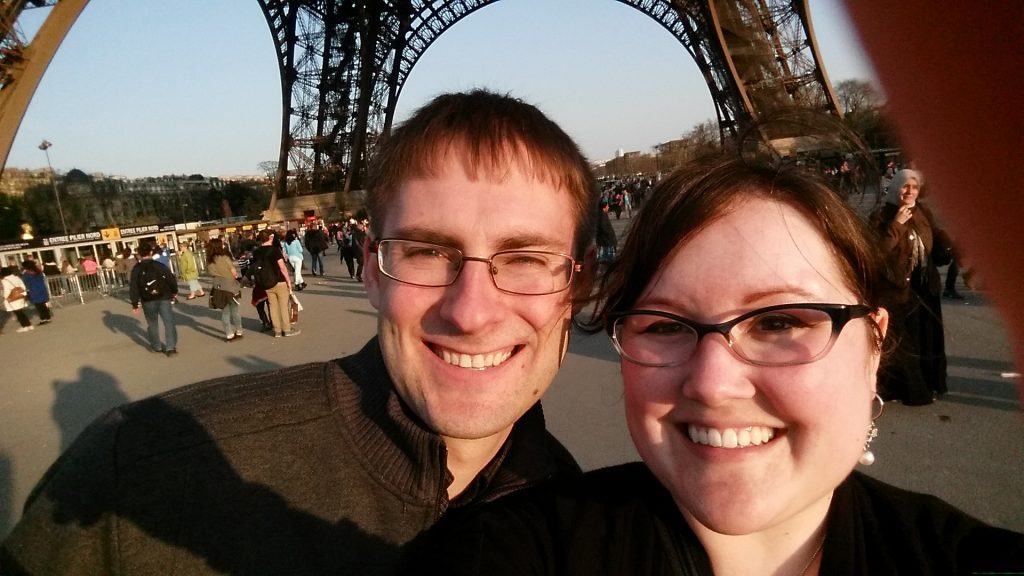 We were able to have some traditional French food (steak frites, escargot, pastries, bread, cheese, wine….), some "home cooking" style food, and French-Asian fusion, all of which were interesting and very tasty. I still miss our delicious breakfasts from this trip, as I'm less likely to just buy a bunch of pastries or croissants to eat with cheese and smoked fish at home. At the home cooking restaurant, the hostess asked if we preferred to speak Polish, given our last name. Thereafter, someone in each country managed to mistake us for Polish until we started speaking.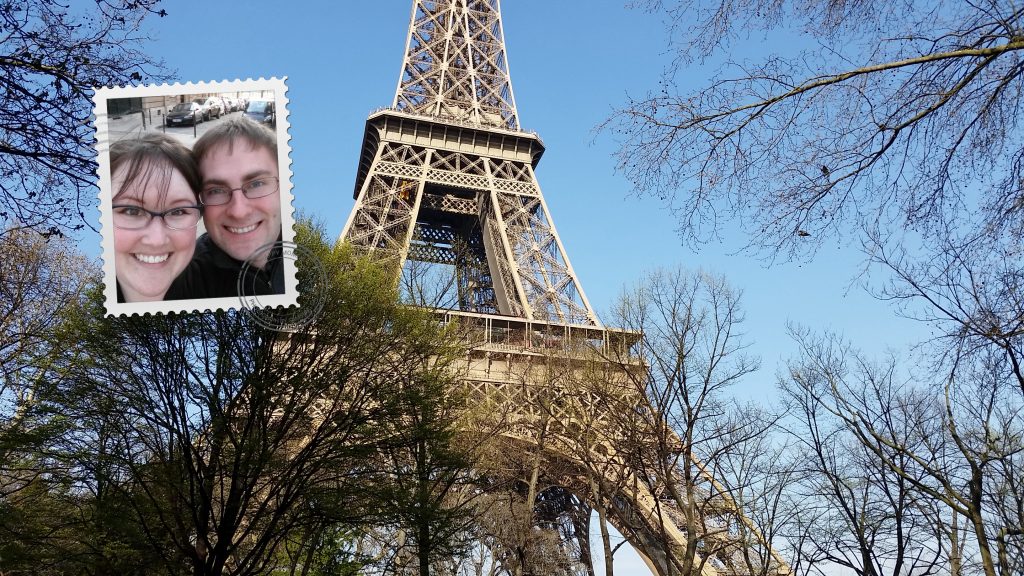 In Paris we made it to Notre Dame, the Louvre, the Eiffel Tower, and Versailles. This was the point at which my legs were really starting to hurt from all the walking, so we didn't make it into Notre Dame, as at that point I just needed some water and a place to sit, and I was very unhappy about it. We also had a fun time in each country trying to get ice for my ankles/feet, as we stayed at local places rather than chain hotels, and Europeans use ice less frequently than we do.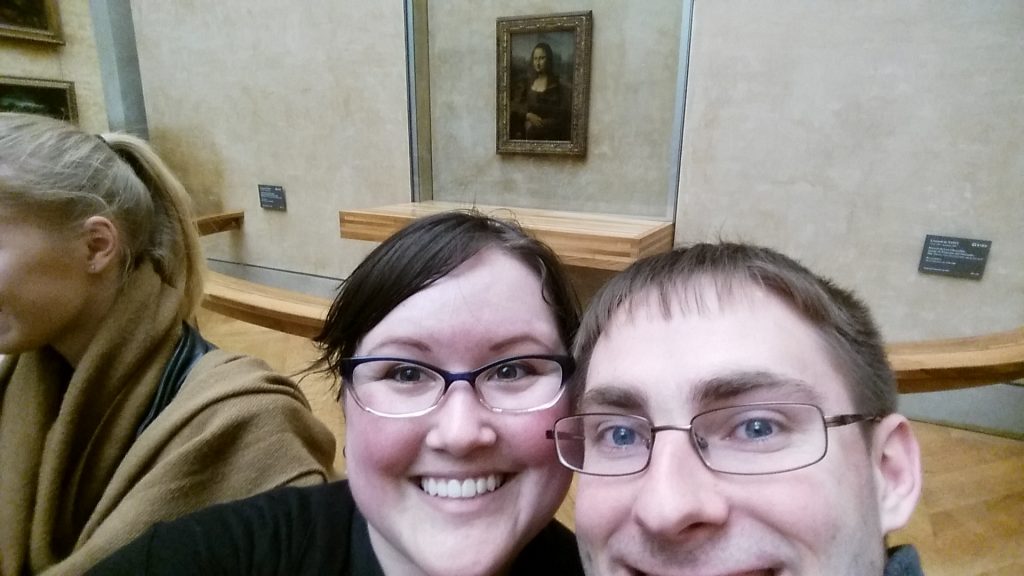 From Paris, we took another train to Zurich, Switzerland, which happened to be having its annual "goodbye winter" festival the day after we arrived. We got to see people from all over the country arriving in traditional clothing to represent their villages and burn a large, symbolic snowman in the town square to welcome the arrival of spring. We took a guided bus tour around the lake and town and were able to see many festival participants.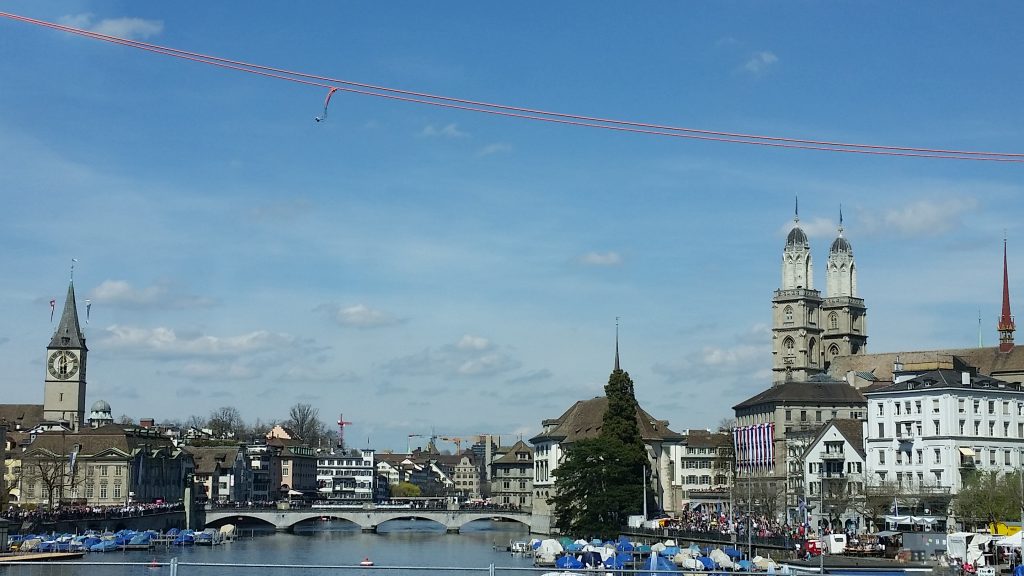 At this point, however, we were beginning to run out of energy, even though we were only halfway through the trip. We ordered room service the first night on a tablet in the room so that we didn't have to speak to anyone, as we ran into the first person who couldn't speak English in the train station, forcing me to order food with German numbers and animated pointing. We did get to have a great dinner at a local place where we had Swiss fondue and chocolates before we left for our next country.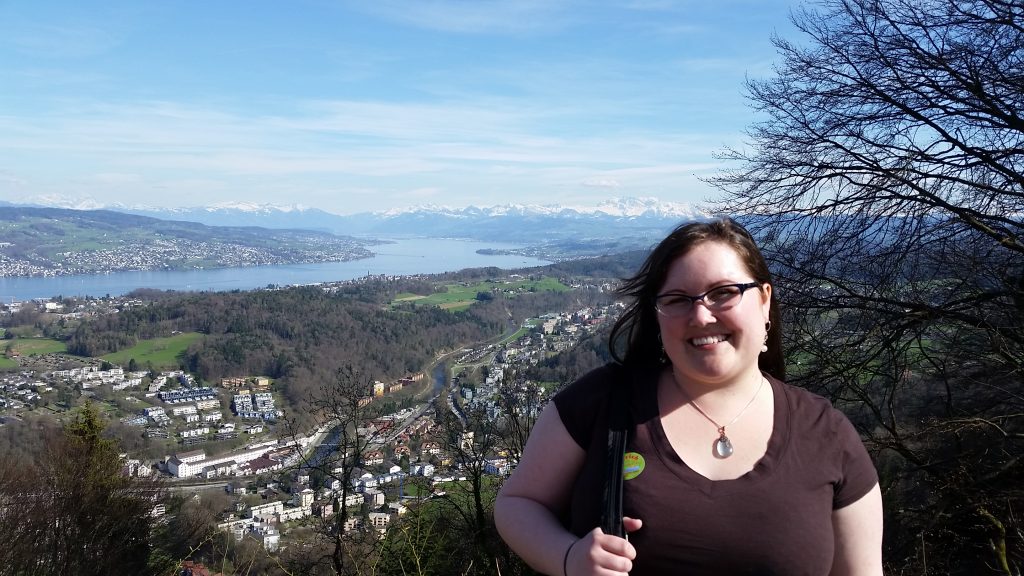 On our way to Germany, we stopped in Innsbruck, Austria for a brief overnight visit. We took a cable car to the top of a mountain that was still covered in snow, and we visited an alpine zoo where a pack of wolves was in a notable power struggle. We also used our travel book to ask for English language menus in German at the place we stopped at for dinner. This would kick off our real restaurant language struggles for the remainder of the trip.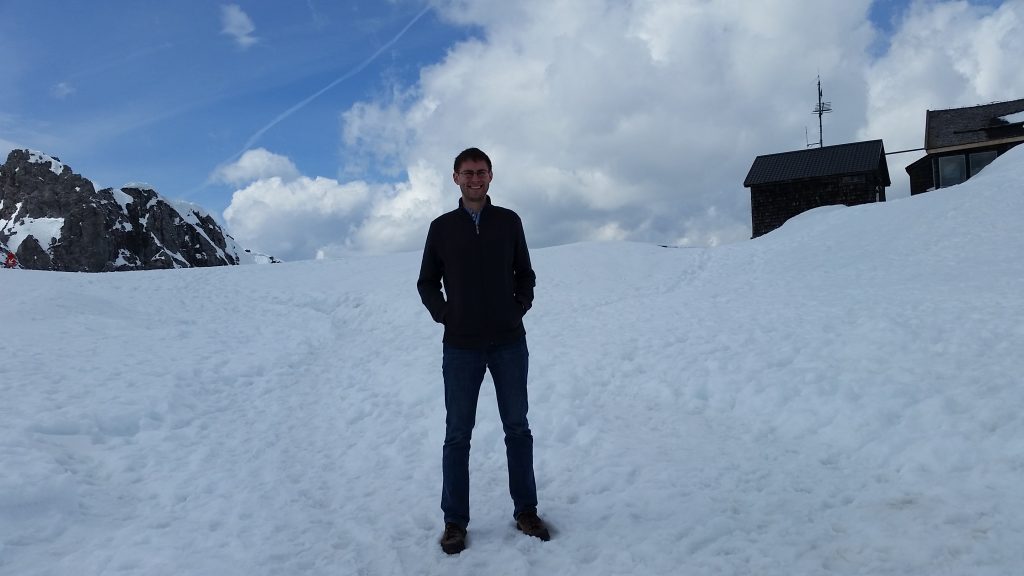 Once we arrived in Munich, we spent the afternoon wandering around the downtown area and grabbed beer at the famous (and touristy) Hofbräuhaus. We then found a restaurant with good reviews for dinner. At this point we were feeling particularly lazy, so we ended up at the same restaurant for dinner our final evening in town. That last evening, I attempted to order the purple cabbage saurkraut, as I wasn't very hungry after a long day. Our waitress didn't speak English, so I did my best to point at the picture menu they brought us. Eventually, she figured it out and brought a big plate of the purple cabbage. Excited, I gave her a thumbs up to indicate that this was indeed what I was looking for. Unfortunately, showing your thumb in Germany is also how they count to number "one," so she thought I was looking for another plate of the cabbage. A few minutes later, she showed up with another heaping plate. We were both full but couldn't explain that we had made a mistake in our communication, so we did our best to eat even more of it. It certainly fixed my purple cabbage craving.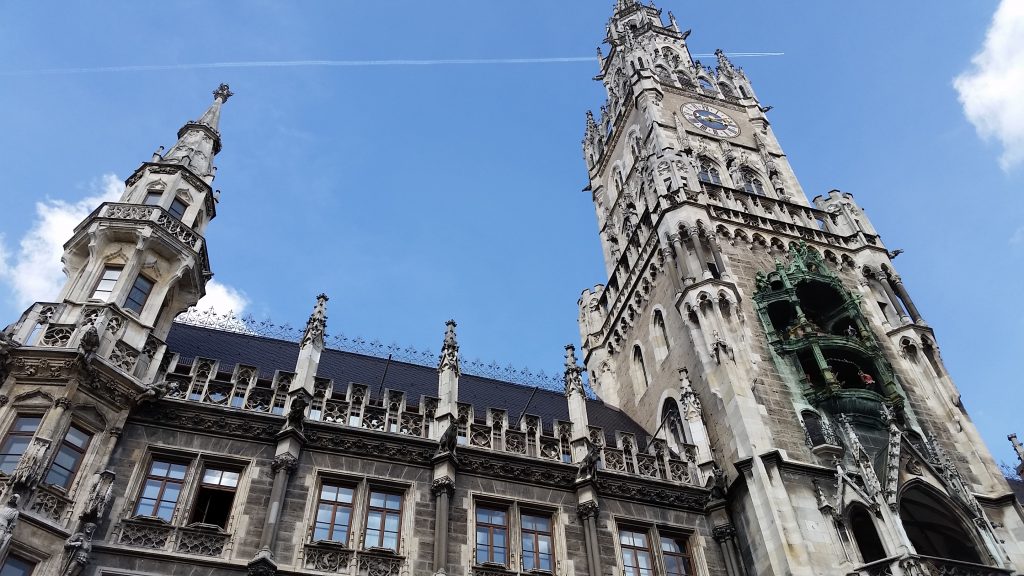 Our second day in Munich, we took a private tour around the Bavarian countryside to see various sites and the Neuschwanstein castle. This was another highlight of our trip, but it was also my highest number of steps day on my Fitbit since I'd gotten, and, I'd assume, ever since! Since we went in April, we were there before the main tourist season, which meant only a few horse-and-buggy combos were bringing people up the mountain to the castle. Since we had a dedicated tour time, we knew we would miss the tour if we waited for a buggy. So…we walked. I earned the "Ferris Wheel" badge on my Fitbit that day for 75 floors climbed.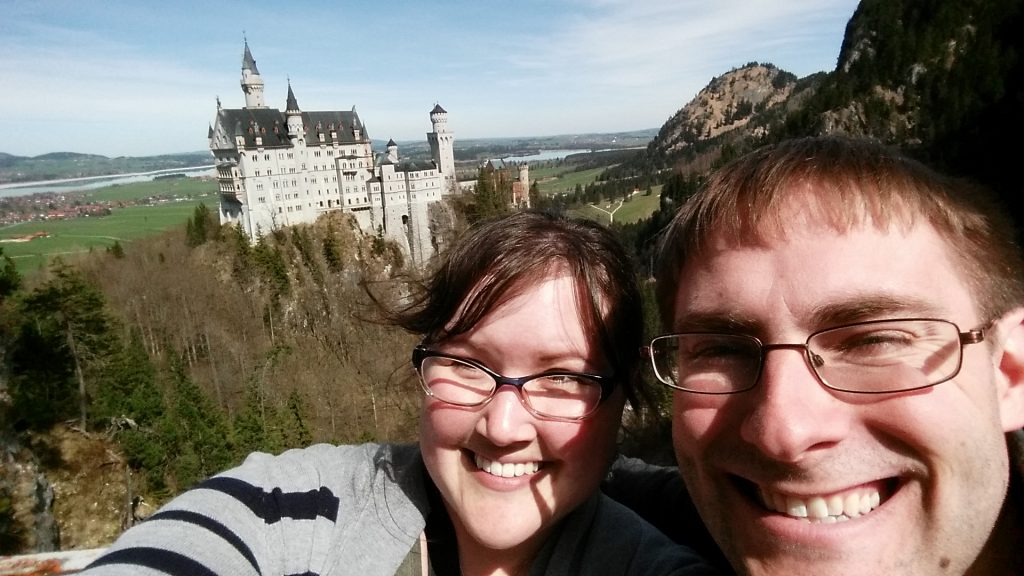 Thankfully, the climb was worth it, and we very much enjoyed our tour of the castle. Our guide then brought us to a small German farm and bought us a cheese plate on our way back, which was absolutely delicious.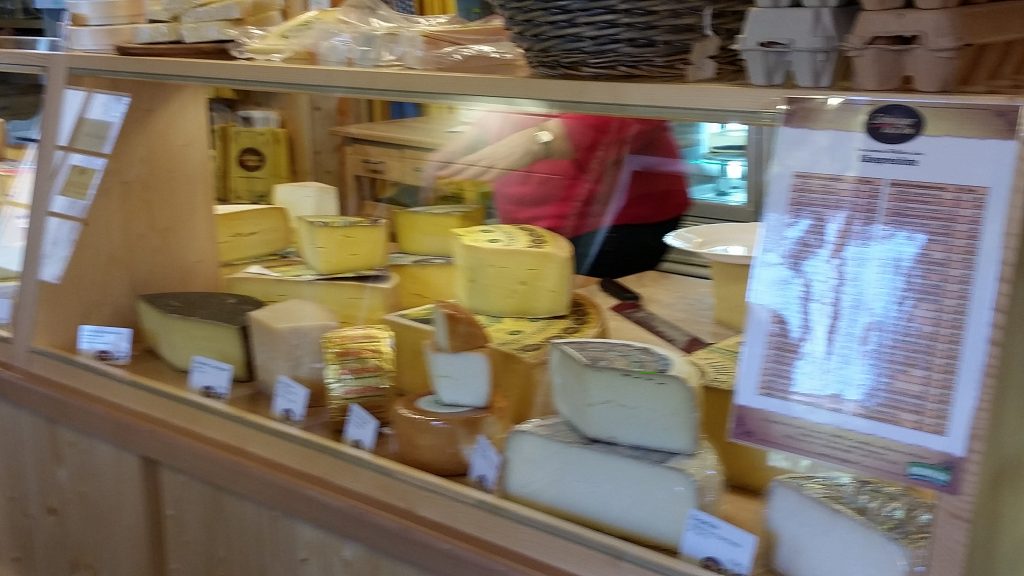 Our final day of the trip, we took the train to Frankfurt, ate at the McDonald's in the train station, and went to our room to take a nap before our flight home the next day. It was an amazing trip, but I'm not sure we would take the same approach again. We were fortunate to be able to visit multiple European countries in our 20s without staying in hostels, but we overdid it for our personal level of interest in being on-the-go all the time.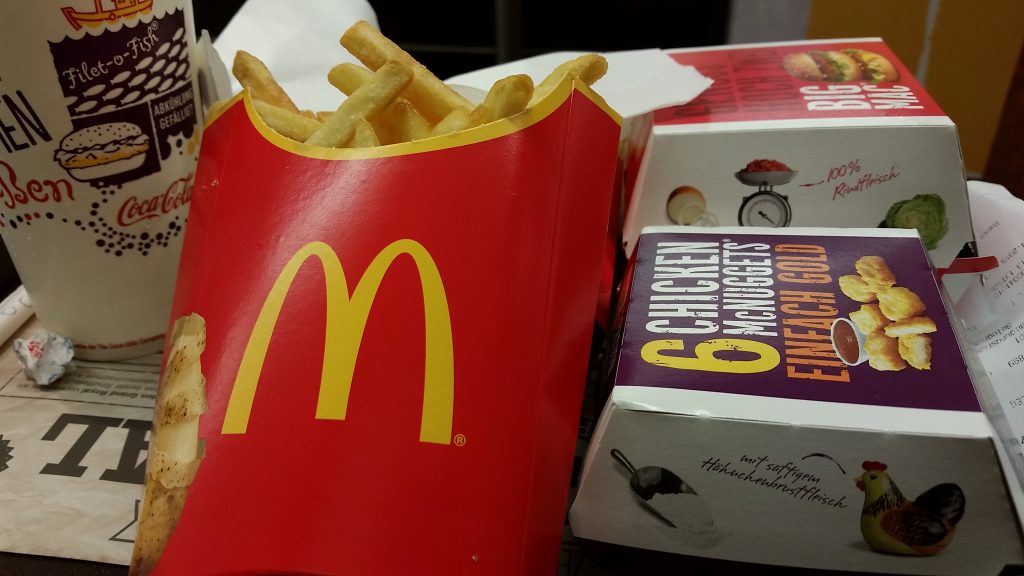 —
So we started with a relaxing, do-nothing vacation that was not stimulating enough. Then we gave a multi-country, land-based, two-week tour of Europe a try with things to see and do every day. Finally, we figured out our Goldilocks level of travel: cruising. Transportation and hotels taken care of every day, while still being able to do as much or as little activity as we'd like each day.
Next post, I'll discuss our North American cruises in the Southern Caribbean, the Bahamas, and Bermuda.