Running a creative business is hard.
A few years ago, I did a fun post for Halloween. Now, my business has gotten super serious, so I had stopped doing "bloggy" posts like this.
But Halloween is my favorite.
So I'm bringing back the post with an entirely new batch of small business owners talking about what makes running a creative business so scary.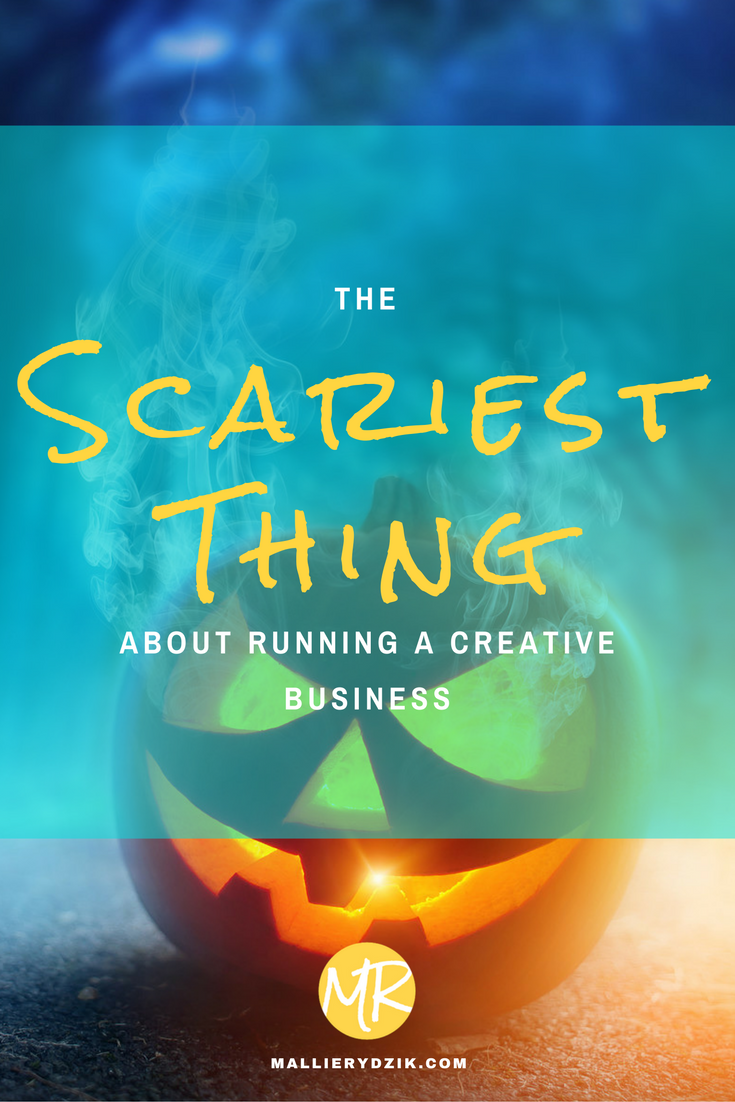 I'd say the scariest thing is: Going without a new client inquiry for one-too-many days and being pretty sure you'll never get one again.
Krista Rae
Knowing I could work my butt off all day today, and next week, all my clients could still quit on me or dry up. I'm all about the hustle, but at the end of the day, clients can still do whatever they want!
Jessica Freeman
The moment you realize (usually pretty early on) that ultimately, the only thing standing between you and homelessness is … you.
Of course, you can put systems in place and develop a business that supports you, but that moment of "Holy shit, this all comes down to me!" is quite the eye opener.
Rachel Allen
When you realize that if you fail to take care of your most important client, Y-O-U and YOUR business, it's almost impossible for you to appeal to the right potential clients. You have to make time to work on your own business, in order to impress upon your prospects and ideal client base. We often push our own business needs to the back-burner, the cobbler's children with no shoes syndrome. This can cast your business in a bad light.
Mallie Hart
Knowing that your boss is always going to know you're just making a lame-ass excuse when you call in sick to work
Tahirih Cahill
Hovering at the edge of jumping into the unknown with two small children to be accountable to.
Leanna Jane Lewis
Injecting your personality into it. Especially as creatives, there is a huge fear of judgment, rejection, and plain ole being ignored. You can't always just say, "business as usual", because it's not just business, it's *your* business, and you as a person.
Briana Slate
For me, the scariest bit is having to constantly back myself, by myself. There is no fallback person. You make the decisions and need to wear them…. good and bad! It's scary to constantly have that level of confidence in yourself when you're not naturally confident.
Jemma Vanderboon
Creativity doesn't happen on demand, but you have to be on demand for your clients.
Hannah Bock
Scariest thing for me is the feeling of being alone. I am definitely an extrovert and I'm very good at networking but it's the day to day lack of 'my peeps' around me that get to me! I've been thinking and figuring out how I can take on a partner to deal with this (and getting other work done- like admin that I am not great at!)
Kimberley Davies