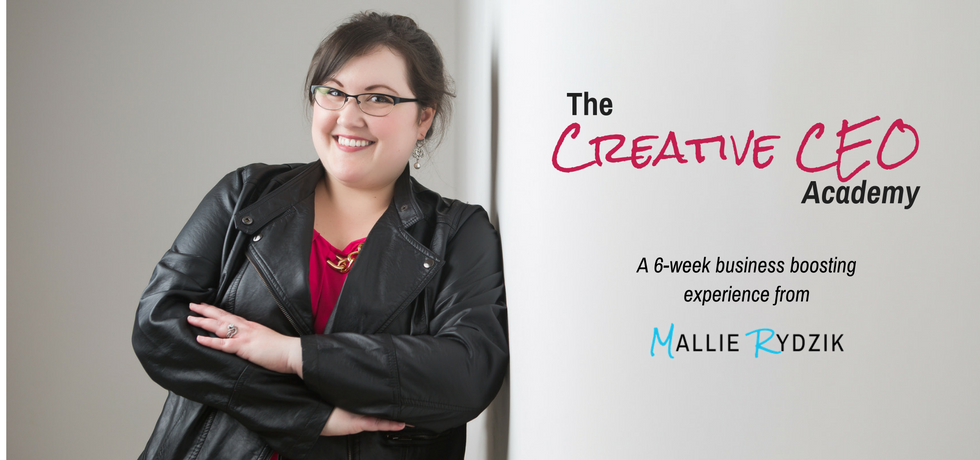 What's keeping you from making your business work?
You feel like you're
spinning your wheels

in your business.
You're constantly chasing down the next client, uncertain where next month's income is coming from.
The clients you do have like you, but the referrals aren't flowing in the way you expected.
You're either trading dollars for hours or putting together half-baked package ideas, uncertain if this offer will be the one that sticks.
You feel foggy about what you do and who you serve, and, secretly, you sometimes wonder why you started this whole business thing in the first place.
It doesn't have to be this hard.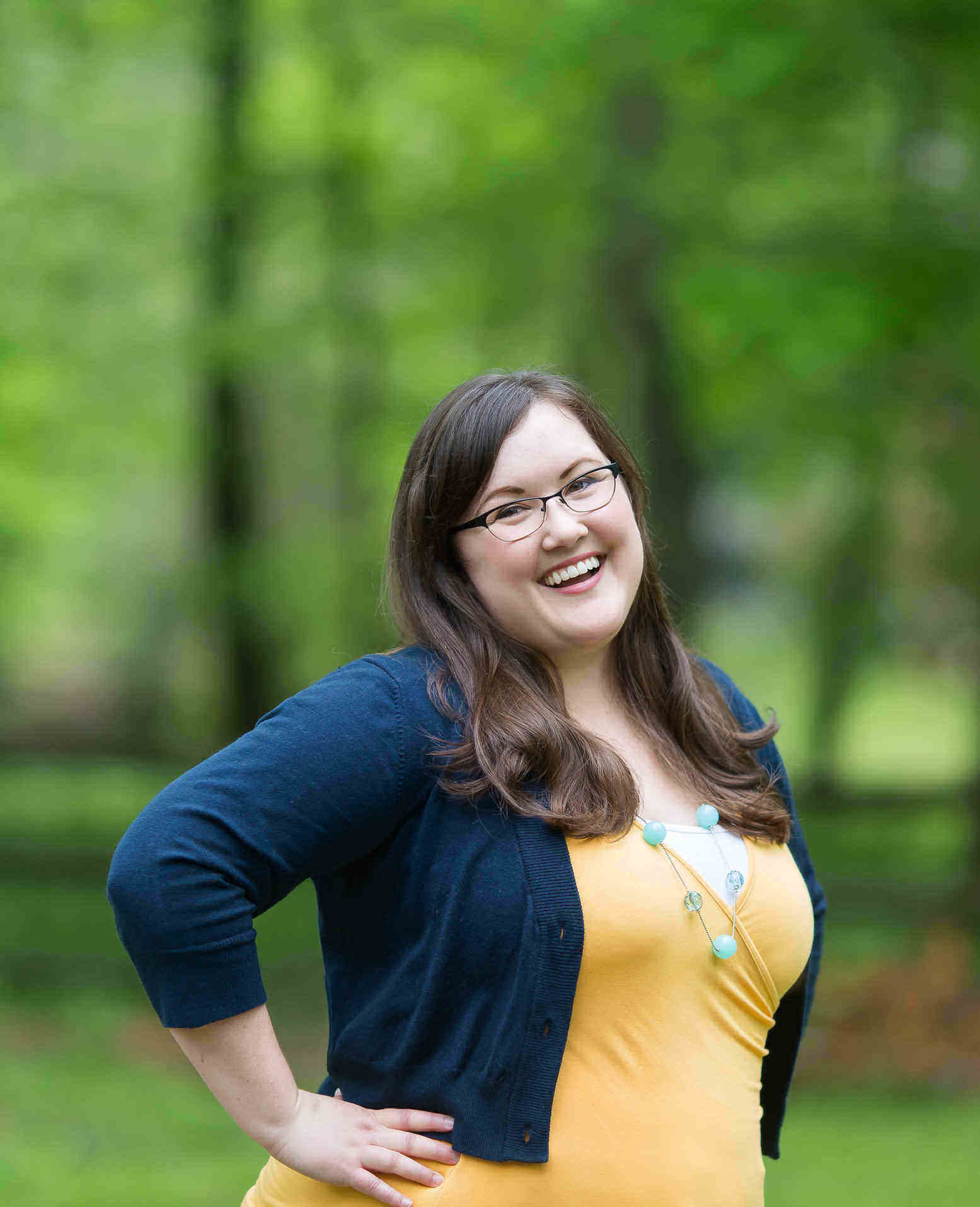 Hi, I'm Mallie Rydzik, and I help creative entrepreneursstep into a bigger role in their businesses for more impact and income.
I have spent 4 years in business, starting as a freelance science writer and editor, then moving into various other service-based companies. I've been a marketing consultant, a systems strategist, and I even had an online pet store! I've given talks in Europe, am an author-in-progress, and spent time in academia as a published tornado scientist.
You can make your business work too.
My journey has been a long one, beginning with my unexpected departure from a Ph.D. program in 2012, when I was diagnosed with obsessive-compulsive disorder, chronic depression, and binge eating disorder. I feared I would never be able to make a difference with my work again as I begrudgingly joined corporate America.
But I soon learned that my skillset was unique, and so was my perspective on business. I used these strengths to bring success to my businesses, as well as to others. Now, I've distilled these 4 years of online business know-how into an affordable program with a high ROI.
Shift your business perspective from solopreneur to CEO.
In this 6-week, group program, you'll learn everything you need to know about positioning yourself as an expert, packaging offers that your clients will happily pay for, and promoting your work like a boss.
By the end of this program you will:
Happily share your website on social media (because you finally have a websitethatsays all the right things)
Stop stressing when Uncle Jay asks what you do for a living (because your elevator pitch is aligned with your message)
Sleep through the night without anxiety dreams about money (because you've got a marketing machine in place to help your cashflow problems)
Have a to-do list that doesn't stress you out (because it's focused on consistency and things that will actually bring you traction)
When I started with Mallie I had 1 client, an old website, and no Facebook page to speak of. Today, I have 5 clients, including former clients who have come back to me and are now paying me 5 times what they used to pay me!
Heather Myklegard
Next round starts: February 13, 2017
What you get:
6 weeks of live training, workbooks, group coaching, and community
6 modules to walk you step-by-step through the Creative CEO Method
Live group calls weekly (recordings will be available if you can't make it live)
Private Facebook group with ongoing access to me
At least one accountability partner (personally matched based on your business model and stage)
A 1-day LIVE in-person event in Washington, D.C. to wrap up our time together
What you leave with:
A powerful, aligned online presence, from your website to social media
1 new signature offer created, packaged, priced, and being promoted with a marketing funnel
A 90-day post-program action plan to start scaling your new offer into an agency or course model
A clear 1-year vision for your business
Working with Mallie has been transformational for my business. When I started with Mallie I had been in business for a little over a year, and while I was making progress, I needed help taking my business to next level.
While working with Mallie, I updated my website, re-branded my business, gained more clarity on my unique value proposition to clients, honed my pricing, and expanded my service offerings.
Not only is Mallie knowledgeable about the nuts and bolts of business operations, but I also greatly appreciate that Mallie allowed me to remain authentic in my business and services. In all our conversations, she helped me hone in on the unique attributes I bring to the table.
Business is a journey, but I've experienced great growth with Mallie and I am excited to work with her again so that I can scale my business to even BIGGER heights.
Thank you, Mallie!
Lawrese Brown
Here's exactly what you'll get:
Mindset and The Triangle
Topics
Moving you mentally from solopreneur to CEO
Introducing "The Power Triangle" approach to a thriving business
Getting clear on your "Why"
Aligning your ideal business with your ideal life
Results
A clear 1-year business vision and the mindset to shift your business into bigger things
Positioning
Topics
Massaging your messaging
Solving problems–not creating them
Meeting your ideal client where they are (not where your avatar exercise says they are)
Where you fit in your industry
What makes you different (makes you beautiful)
Making your website reflect your brand
Results
An elevator pitch that doesn't sound weird
An ideal client that makes sense
A clear unique selling proposition
A website you're not afraid to share
Packaging
Topics
Create an offer they can't refuse
Stop trading dollars for hours (even you, VAs)
Pricing (a method that goes beyond "charge what you're worth")
Sales page set-up and copy
Results
1 new offer priced and packaged that you can start selling right away
A solid sales page on your website for the offer
Promoting
Topics
Marketing strategies that feel good (and some that don't)
Introduction to sales/marketing funnels
Results
A mini marketing funnel to promote your new offer to beta clients
Implementation
Topics
1 weeks for implementation
Results
Play catch up, take a breather, get some clients!
Progressing
Topics
Getting feedback on your beta offer
Tweaking and/or creating a new offer
Making an offer for the group you just finished with
Automating the details
A taste of some more advanced strategies
Results
A strategy for improving, revamping, and/or scaling your new offer into an agency or course/program format
A 3-month action plan to tie the previous 5 weeks altogether
And don't forget the LIVE 1-day event!
At the end of our implementation week, we'll come together in-person to make sure you're caught up, clear, and ready to wrap up in our final week!
The live event is a bonus and is not a required component of the program, but if you're looking to connect 1-on-1, it will be a great opportunity to do that with a small group of us.
Saturday, March 18th
10am to 6pm
Full day of group coaching, connection, and even a training or two from local experts on topics like launching, sales, and book writing.
✓ You're a best fit for The Creative CEO Academy if:
You have an existing business, brand new or super old, that needs better traction and more income
You are generally clear on what you offer and to whom
You have a website that you can make changes to as we go (or have someone who can)
You run a service-based business (freelancer, consultant, coach, VA, etc.)
You're looking to start making money consistently while reaching a bigger audience
✗ You're probably not the best fit for The Creative CEO Academy if:
You are looking to start your first business from scratch during this program
You don't have a website or are uninterested in making one
You have a physical products business
You are consistently making over $3k each month in revenue (if that's you, email me for my 1-on-1 opportunities)
Investment
6 detailed training modules ($2400)
6 live group training calls ($2400)
Facebook group community and access to me during the program ($800+)
Personalized accountability partner ($600+)
Lifetime access to the program and community ($1200+)
1-day LIVE in-person event ($600)
Total value: $8000
Your cost: $1200
Or 2 payments of $605.
Are you ready to make your business work?
Doors open again soon for February 2017!
Get On The Waitlist
What others are saying…
I can tell you that working with Mallie and hiring her was one of the best decisions that I made for my business to help me with strategy, to help me get clear on my launch plan, and also to grow my list and grow my audience.
If you have the opportunity to work with Mallie, I highly recommend it!
During the time we were working together, I added over a thousand new subscribers to my list. I started and grew my Facebook group to over 3000 members. She also helped me with really cleaning up my website and helping it speak to my ideal client.
Daniela Woerner
Mallie is AMAZING. I literally started my business from scratch when I met her – I had no idea where to go and what to do. She was so warm and friendly, I immediately felt comfortable bouncing ideas off of her.
I've grown SO much – starting a business doesn't feel as overwhelming anymore!
If you're on the fence about choosing a business coach, pick Mallie. You won't regret it!
Heather Myers
Mallie was an unwavering support and I accomplished more in our time together than I have on my own.
We put together a 3-month action plan that worked for me and I was able to ask all my questions. She was up-front and gave me constructive feedback where I put out an offer and acquired 2 new clients immediately. I enjoyed working with her and I highly recommend her services to anyone that needs a organised business coach.
Nicole Stacewicz
Working with Mallie gave me the knowledge, encouragement and confidence to move my pricing to pre-paid packages!  Now, I'm actually getting paid for my skills rather than just my time.  I'm also much clearer on how I want my business to grow in the future and the steps (and systems) I need to get it there.
Jemma Vanderboon
Are you ready to make your business work?
Doors open again soon for February 2017!
Get On The Waitlist
Frequently asked questions
How is this different than the other business coaching programs out there?
I've not taken others' programs, so I really can't say for sure. What I can tell you is that my clients tend to think I'm a pretty great coach (but don't take my word for it, my clients are happy to sing my praises), and that's partly because I've been at this for a few years.
I'm not a business coach teaching others how to be business coaches for business coaches, in fact, so far I've only had one client who was also a business coach! My clients are freelancers, VAs, writers, consultants, and, yes, coaches, in various areas and industries. This system and my insight has worked for all of them.
Not to mention that I've had the following businesses of my own:
Freelance science writing and editing
Marketing and social media strategy
Systems, process, and workflow consulting
Strategy and operations consulting firm
Writing and speaking
I've got experience, happy clients, and a system that will work for you.
This process seems too simple/too complicated
This program isnot about setting up systems or getting a grip on what you offer: it's about creating, promoting, and testing an entirely new offer with the goal to eventually scale it via an agency or program/course model.
This is the process I've taken my 1-on-1 clients through, and as soon as they get clear on their Why, What, and Who, it's "easy" to put together and promote a new test offer. Once you get initial feedback on how the offer went, you can tweak, realize what you didn't like about the offer, and use that feedback to make your sales language and website copy even better.
I've actually had an interesting thing happen with a few clients and this process…they go through it and realize that they're not in the right business. Not because the offer didn't work, but because they were finally selling what they thought they wanted to sell and realized they didn't like it.
So then? They go through the process again. With fresh eyes. Looking for how to shift.
It's a simple yet powerful framework you can return to any time your business needs to transform.
(P.S. I still use it in my own business when I'm shifting.)
Can I get any 1-on-1 time with you?
You're going to get way more 1-on-1 access to me than you're anticipating, I can guarantee that! In both the group calls and on Facebook I'll be there to answer your questions. In detail. This is not going to be a gigantic group, so I'll know who you are, what challenges you're having, and respond directly.
When are the calls and live event?
For the February 2017 round: 4 PM Eastern each Tuesday of the program.
The live event will be on Saturday, March 18th, 2017, in a to-be-determined location in Washington, D.C. I'll need to verify the number of people who will make it before confirming a venue, so don't book flights until I give you the go-ahead.
Do I have to attend the live event? What's included?
The live event is an in-person bonus for those of you who crave that face-to-face connection. I'd love to have everyone there, but I understand that it can be logistically difficult. Don't book flights until I get confirmation that we have met the minimum number.
Included:
Breakfast and lunch on Saturday, March 18th
Group coaching on top of what you receive virtually
Materials, coffee, and snacks throughout the day
Access to experts
Not included:
Airfare
Lodging
Transportation from airport to venue (Uber will likely be your best option)
If I can't make the calls or live event, should I not sign up?
The calls are great, but you'll honestly get a ton out of listening to the recordings and following along with the materials. Don't forget that there will also be the Facebook group for you to post your questions in, and I'll be doing office hours within the Facebook group that will act as group call part two (for introverts!).
The live event is a bonus I'm experimenting with this round. It's a chance for us to get together and celebrate your progress, as well as wrap up any loose ends you didn't have a chance to talk to me about.
What if I don't like my accountability partner?
We'll try to ensure the best fit for you and your partner, but if something is really not working between you, please let us know. We'll ask that everyone sticks with their partner for at least the first module.
What does ||lifetime access|| mean?
As long as I'm offering this program, you'll be able to get updates and additions to the materials.
How exactly will the material be delivered?
I'm using Teachable, but because they don't yet offer a drip content by date option, my team will be uploading the materials on the day they're scheduled to be released. So don't freak out when you see there's no content yet! It's here, and it's waiting for you. 🙂
I'm not sure this is right for me....
Make your business unique to you
My clients have started, pivoted, and grown their businesses using my signature framework that's inside this workbook.